Kwik Lok: Developing an Alternative to Plastic Bag Closures
CPP Roadmap Target #2
Timeline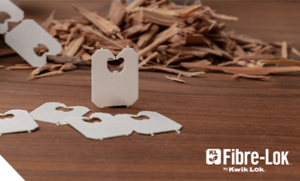 Launch: 2022
The Circular Solution 
Kwik Lok, a packaging manufacturer, has taken a proactive approach to meet the needs and concerns of its bakery customers in Canada by developing an innovative solution that is recyclable and uses recycled material.
The challenge faced by Kwik Lok was to provide a closure that would be compatible with the existing Kwik Lok closing machines, keep bakery products fresh and safe, be strong enough to be reusable throughout the product's life, be metal-free, and use less plastic. In response to these needs, Kwik Lok developed Fibre-Lok, a bag closure made from 100% natural wood fibers, which eliminates the use of plastic in its manufacturing process.
Fibre-Lok is made from standard paper grade material commonly used in food packaging, and there are no petroleum chemical components or derivatives used in its production. Moreover, Kwik Lok sources wood pulp only from certified suppliers and renewable sources, ensuring that Fibre-Lok promotes sustainable forest management.
Outcomes
Kwik Lok has early adopters in Canada and, after a successful debut at the International Baking Industry Exposition in September of 2022, Fibre-Lok has now been made available in the United States.
Next Steps
Kwik Lok will continue to promote the use of Fibre-Lok internationally and hopes to successfully convert bakeries to its use by 2025.